When Satoshi Tajiri was a young Japanese boy, he was fascinated by arthropods and dreamed of becoming an entomologist - a scientist who studies insects. He loved collecting specimens, and his friends even gave him the nickname "Dr Bug". Unfortunately for him, insect-hunting areas fell drastically as the town he grew up in developed and built paved roads, apartments and railway lines.Refusing to give up his passion just like that, he diverted his attention to creating and designing video games. In 1996, he created a Nintendo game that was just like a virtual world, bursting with biodiversity and packed with 719 fictional species
.
It proved hugely popular, and has since become the second-most successful video game so far. This video game, borne out of a childhood interest of a young boy intrigued by insects, is none other than Pokémon
.
POKEMON CHARACTERS. PHOTO: REDDIT.COM/USER/AVALON_
Above is the Pokémon colour wheel, pretty with a myriad of colours! On the darker side, it is a pity that 8 year old children can identify up to 120 Pokémon characters, but only less than 50 % of common wild types native to their area (Balmford et al., 2002). It seems that young children are more interested in fictional species than genuine ones!
"If you can't beat them, join them." Pokémon remains immensely popular, and in a bid to raise interest amongst the young on biodiversity, conservationist and scientists are taking a leaf out of the book (or rather, out of the game), and tapping on Pokémon's success by starting the Phylo Project and introducing a new trading card game called "
Phylo: The Trading Card Game
". The game aims to expose children to the various plants and animals using trading cards with genuine species, and includes information on their habitat, kingdom and diet (Collins, 2014). Additionally, real-life environmental threats such as climate change and oil spills will also be incorporated into the game to raise awareness of the situation and threats faced by species in our environment.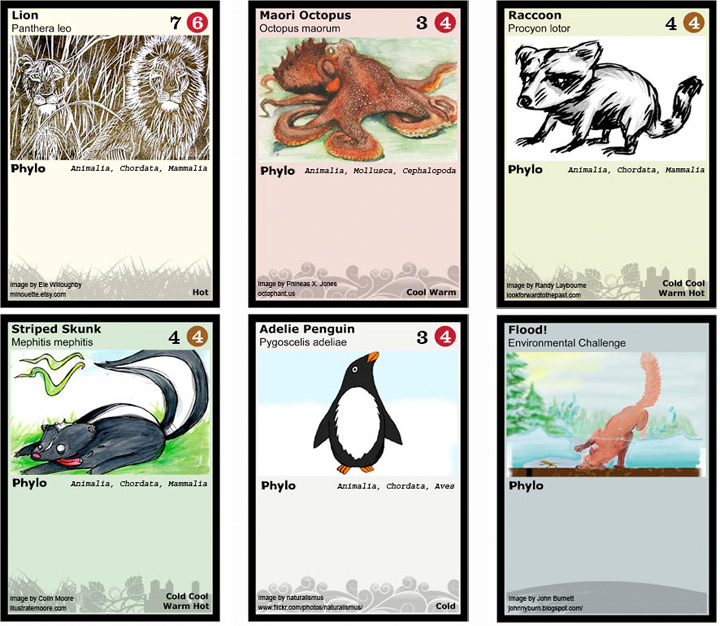 PHYLO TRADING CARDS. PHOTO: SCQ.UBC.CA/BIODIVERSITY.HTML
While it is ironic that conservationists have resorted to a passive, indoor card game activity to raise awareness and interest of biodiversity in a scope that typically involves the outdoors and interacting with nature, this is at least, a step towards striving for concrete and productive biodiversity education. Hopefully, this card game will make an impact and increase children's curiosity and interest in biodiversity around us. Only then will children learn to appreciate the beauty of outdoor activities and field trips, such as going to a zoo or marine park, knowing that it is more than just pure entertainment and fun, but a learning experience that will culminate in compassion and a yearning to protect living organisms that coexist with us.
The fact that Pokémon has withstood the test of time and continues to remain popular among a new wave of young children is impressive. If only the craze and popularity of this video game series can be translated to a genuine interest and passion for the environment and biodiversity. With increasing urban population, young children of today will be the futures of tomorrow. Hence, biodiversity education is important to capture the interest of the young and teach them the beauty of biodiversity and nature, ensuring that they remain motivated and inspired to protect these ecosystems in years to come. I'm sure Tajiri will be truly satisfied only if his work inspires others to protect what's left of the richness of species in our environment, more so then the popularity he gains or profits he receives.
That is all, but I'll like to leave you with an interesting journal article titled:
'It is a Pokémon world': The Pokémon franchise and the environment.
To all you Pokemon lovers out there, you're probably going to love the article.
Ps: I've a confession to make - I've never watched nor played Pokémon.
Literature Citied
Balmford, A., Clegg, L., Coulson, T., & Taylor, J. (2002) Why conservationists should heed Pokémon.
Science
,
295
(5564), 2367-2367.
Collins, J. (2014)
Pokemon power: finding fun in biodiversity.
Available at: http://www.dw.de/pokemon-power-finding-fun-in-biodiversity/a-17504066
Accessed 18 October 2014].